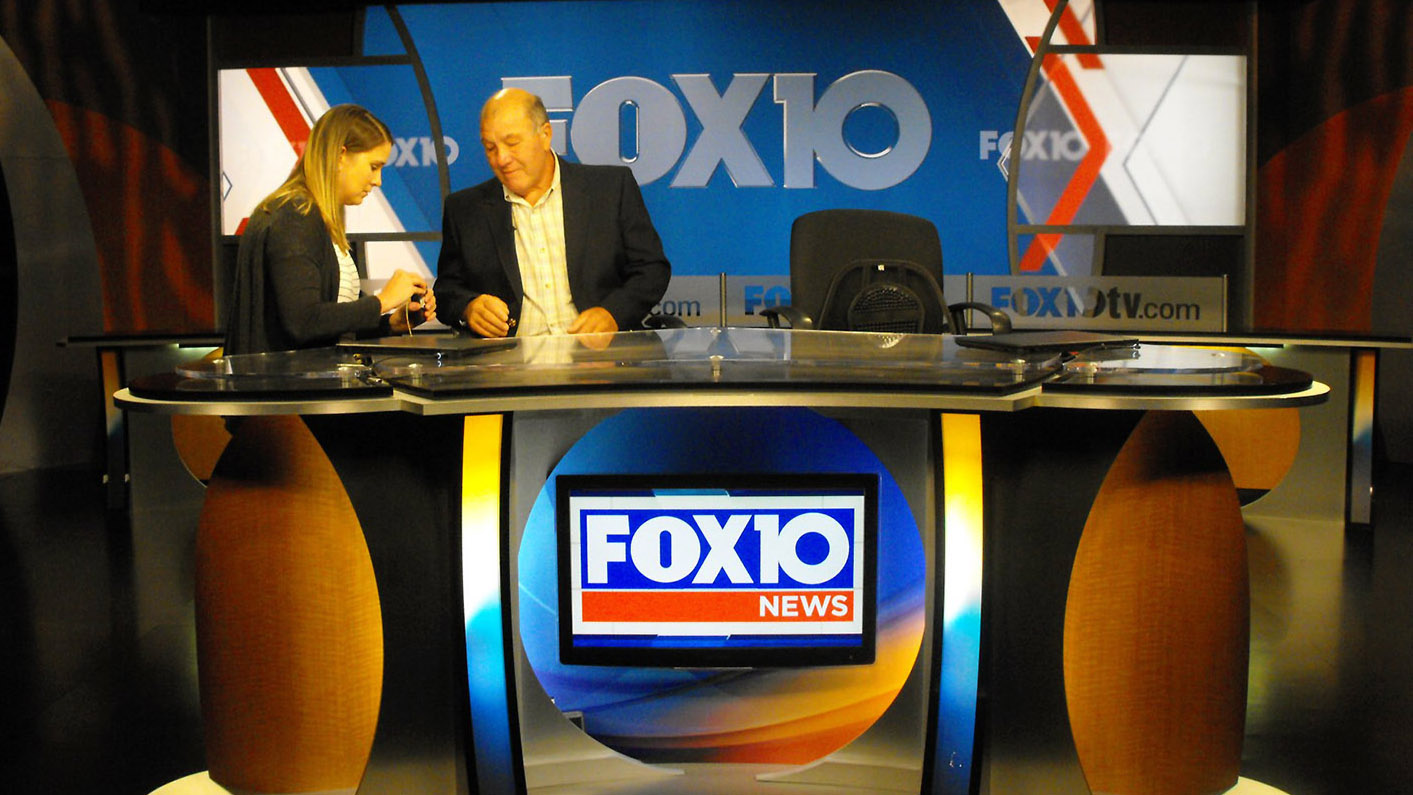 Calvin Parker Fox Getting Ready for Fox 10 News 'WATTER'S WORLD' (2019-09-24)
Calvin's Appearances and Conferences
2021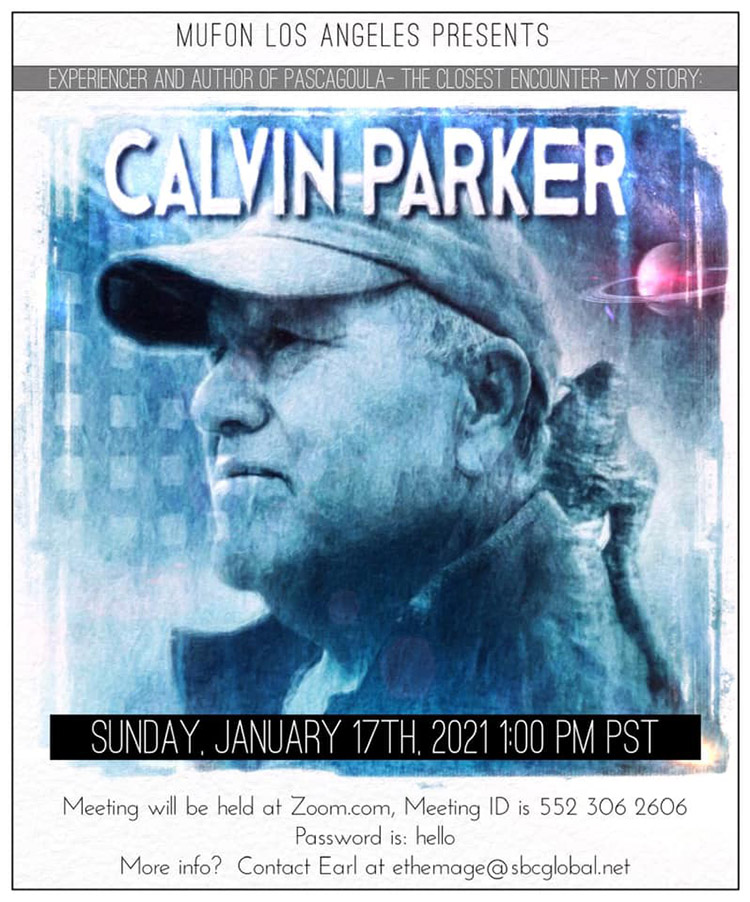 2020
Since COVID has closed most conferences for this year, please enjoy hearing Calvin recount his abduction encounter from a few past appearances.
October 2019, Ozark Mountain UFO Conference (1hr, 26min)
April 2019, UFO HUB (35minutes)
1973 Remarkable UFO Incidents… The Year We Truly Realized We Were Not Alone!
News Coverage
2022
March
SunHerald, Mar 23rd; A living Coast legend relives his story of aliens and UFOs. An 11-year-old has questions.
The Delta Statment, Mar 11th; Pascagoula, Miss.: in the year 1973, the lives of two local shipyard workers, Charles Hickson and Calvin Parker, would be changed forever. 
February
Mirror, Feb 21st; Calvin Parker, 58, claimed that as an 19-year-old he was abducted by aliens who had lobster-like claws, probed him, and showed him visions of the future where he foresaw a plague and World War Three
The Sun, Feb 18th; A MAN wildly claims he was shown terrifying visions of the Covid outbreak and a bloody global war when he was allegedly abducted by aliens in one of the most infamous close encounters of all time.
2020
October
WLOX, Oct 11th; On This Day: 47 years pass since Pascagoula Alien Abduction
July
The Clarion Ledger, Jul 13th; 'They didn't make it up.' Interview recording surfaces in Pascagoula alien abduction case
February
Arlhub, Feb 9th; Alien Abduction Stories – Why Sheriff Diamond Believed Calvin Parker
2019
October
WLOX, Oct 4th; "Meet the Author: Calvin Parker with "Pascagoula-The Story Continues"
The Clarion Ledger, Oct 4th; "More UFO witnesses: Mississippi man writes second book about his alien abduction"
September
WLOX, Sep 30th; "Pascagoula Alien Abduction: The story continues with Calvin Parker's new book"
The Daily Star (UK), Sep 29th; "Alien abductee' has famous kidnap by 'faceless woman' brought back via hypnosis
KRTV Great Falls, Sep 27th; "Area 51: A deep dive into aliens, UFOs, and conspiracy"
August
The Sun (UK) Tuesday, Aug 20th; 'LEAVE ME THE F*** ALONE' Man claims he STRANGLED female 'alien' who poked her finger up his nose during infamous UFO encounter in unearthed hypnosis tape.
Daily Star (UK) Sunday, Aug 4th; US 'alien abductee' behind biggest UFO conspiracy to reveal all four decades on. THE "alien abductee" behind the notorious Pascagoula Incident is speaking-out, four decades after his petrifying testimony sparked a media storm.
The Sunday Post, Aug 4th; 'We were fishing on a pier, then aliens levitated us aboard UFO' : The story of one of the world's most sensational 'alien encounters'
June
The Washington Post, June 26th; The men claimed they were abducted by aliens. In Mississippi, police believed them.
March
WLOX News, March 14th; Pascagoula UFO: A new witness comes forward (Video)
The SUN, March 11th; 'I KNOW I SAW IT' New witnesses emerge in infamous 1973 'alien abduction' case of two fishermen 'taken by creatures with lobster claws' The witnesses claim they saw a UFO and a strange figure emerge from the water the night two fishermen were allegedly "abducted".
Earlier This Year
Spanish TV show "Fourth Millennium" did an episode featuring Calvin Parker and the Pascagoula Encounter.
2019 International UFO Congress Calvin Parker & Travis Walton
New Full Length Documentary Now Out
Calvin Parker and Charles Hickson were abducted by Aliens in 1973. The incident made headline news around the world yet like many reported UFO encounters skips into the ether and is forgotten over time. This case, however, now takes the forefront decades later as new eyewitnesses have emerged to tell the story and confirm the horrifying encounter actually happened on that October night in Pascagoula, Mississippi. Hear the true story from the lone survivor, Calvin Parker, and the shocking details that have never before been exposed until now. This is the Alien abduction case that will change your mind about the Alien presence on Earth. Consultants Dr. Irena Scott and Philip Mantle
Watch Now on AppleTV, iTunes, Google Play, XBox, Redbox, and Vudu.
TV / Documentaries
2019
July
Calvin was just featured on The Travel Channel's "UFOs The Lost Evidence", Season 2, Episode 3 "Abduction"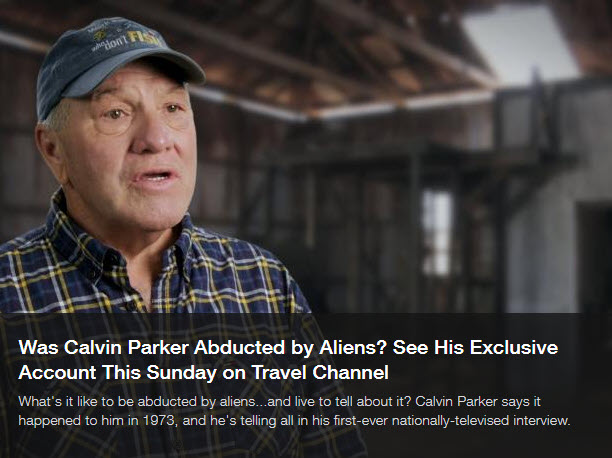 "As long as there have been UFO sightings, there have been claims of alien abduction. This phenomena and the alleged alien implants sometimes left behind are examined in the light of never-before-seen evidence and eyewitness testimony."
Calvin's Appearances and Conferences (Recently Finished)
2020
January 31st~Feb 1st; Aliens Revealed Live (CONFERENCE)
Calvin will be a speaker at Aliens Revealed Live, an online FREE UFO conference with more guest speakers then some of the ones you can presently fly too. Calvin's Publisher Philip Mantle, as well as Kathleen Marden (Calvin's regression Therapist)  will also hold talks. 
Our hand-picked team of 28 world-class alien & otherworldly experts will provide and "inside" look into the Alien-Human Abduction Agenda, disclose National Security Secrets about UFO's, provide you with recounts of actual encounters, and discuss "The Great Conspiracy." Plus so much more! 
January 11th 9am~3pm; 2020 Annual Pascagoula Public Library's 'Ghoula-Con' Enter our Cosplay & Art contest and win cash prizes! Visit our Artist Alley with Disney artist Philo Barnheart and others. Hear from Calvin Parker, Eric Zala, and more! Enjoy food and visit Comic Artists and other vendors in the meeting room! Calvin will have a talk about his experience and hold a book signing (Free Admission!)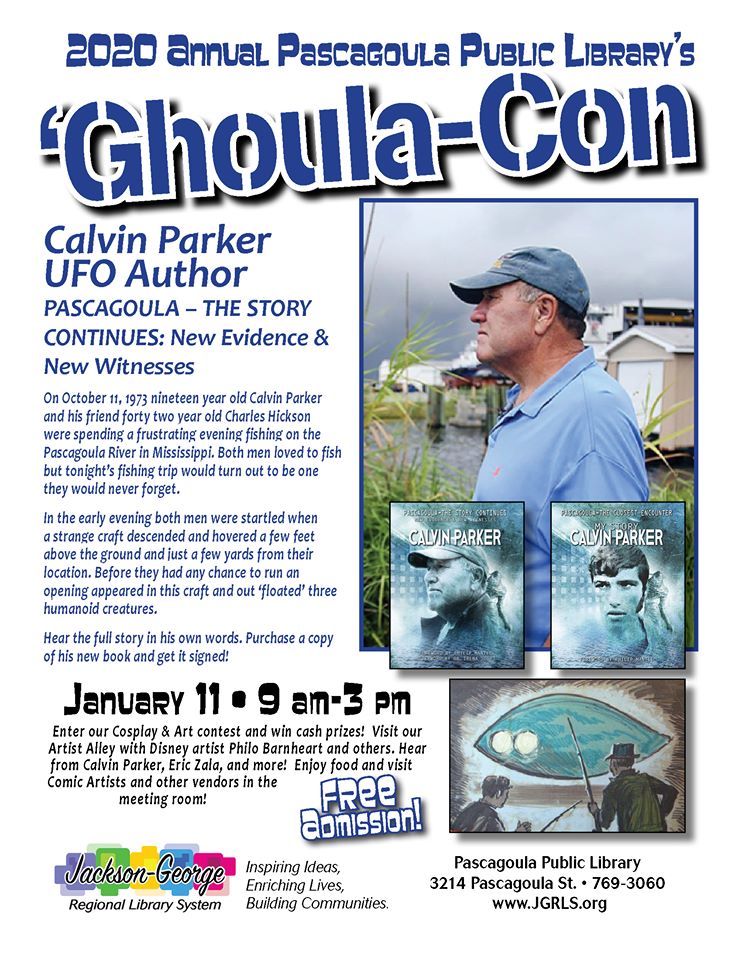 2019
September 15th; Calvin will be the guest speaker via Skype for the Northern California MUFON meeting at the Community of Infinite Spirit located at: 1540 Hicks Avenue in San Jose, CA
September 4th~8th; 28th Annual International UFO Congress in Phoenix, Arizona. Calvin will be doing a Lecture: The Pascagoula UFO Incident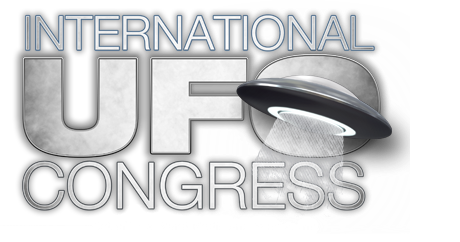 November 15th; Calvin will have a talk about his experience and hold a book signing. 618 Delmas Ave, Pascagoula, Mississippi. This Friday Join us in downtown Pascagoula for an out-of-this-world time complete with a glow bicycle parade, costume contest, photo ops, vendors and MORE! Hear the story of the 1973 alien abduction from Calvin Parker himself, and get a signed copy of his first or second book available to purchase from Main Street Pascagoula.
Movie Based On Calvin's Experience In The Works
PASCAGOULA MOVIE UPDATE: (August 31st, 2019, by Philip Mantle)
The Pascagoula movie is moving forward with the third draft of the screenplay almost ready. The screen writer will be visiting Pascagoula for the second time in September in order to talk with Calvin Parker and others. There is no guarantee that the movie will be made, however, all of us involved are 100% confident that it will. In the meantime Calvin Parker's book is on sale via Amazon.
PASCAGOULA MOVIE UPDATE: (July 9th, 2019, by Philip Mantle) 
It's been no secret that we have been working with a US film/tv producer on a possible movie based on Calvin Parker's close encounter on the Pascagoula River on October 11th, 1973. Well, I can confirm that a writer was in Pascagoula earlier this year interviewing Calvin Parker and others. That writer has now produced the first draft of the movie screenplay. We can't discuss the contents but I must say that I am more than pleased with what he has written. This is only the first draft so there's still a long way to go but things are looking very promising indeed.
MOVIE PROJECT REACHES SECOND DRAFT OF THE SCREENPLAY. (August 8th, 2019, by Philip Mantle)
The screenplay based on Calvin Parker's book 'Pascagoula – The Closest Encounter' has now reached the second draft stage. The screen writer was in Pascagoula, Mississippi earlier this year talking to Calvin and others and how now written his second draft of the screenplay. He hopes to possibly visit Pascagoula again later this year as this project progresses. This does not of course guarantee that Calvin Parker's story will be made into a movie, but it does at the very least take it one step closer. I have read the screenplay as has Calvin and we will provide the writer with some constructive comments in due course. Although I know I am biased I do honestly believe that Calvin's story would make a hell of a movie and here's keeping my fingers crossed that this happens sooner rather than later.
Official Website of Calvin Parker and the Pascagoula Abduction Encounter